My parents are divided. And I? - Book presentation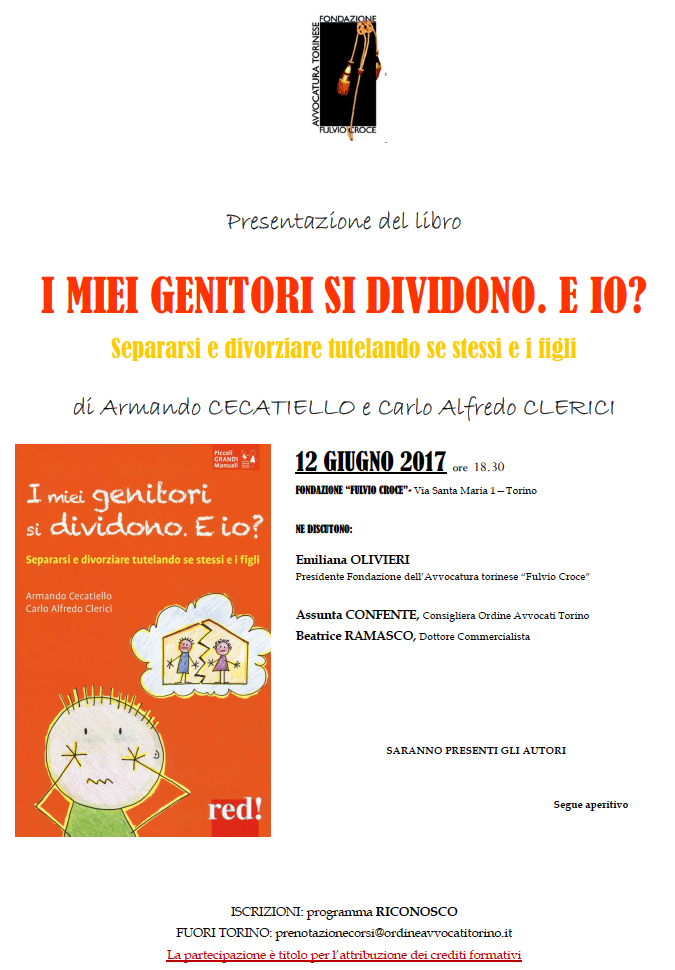 Wednesday 12 June 2017, at the premises of the Fulvio Croce Foundation of Turin the book "My parents are divided. And me? ", Edited by Armando Cecatiello and Carlo Alfredo Clerici.
The volume aims to show the different tools available to parents to face the crisis of the couple from a constructive point of view - from negotiation, to mediation, to collaborative practice - and without delegating the decision on such delicate and personal issues to a third. The whole, intersecting the point of view of the lawyer and the psychologist.
They were present at the meeting:
Lawyer Armando Cecatiello
Dr. Carlo Alfredo Clerici, Medical specialist in Clinical Psychology and Psychotherapist
Lawyer Emiliana Olivieri. "Fulvio Croce" Foundation of the Avvocato Torino
Attorney Assunta Confente,

Councilor of the Bar Association of Turin

Dr. Beatrice Ramasco, Chartered accountant
At the end of the meeting, refreshments with the authors followed.
Armando Cecatiello, Lawyer Milan and Rome.
Law Firm Cecatiello, specialized in family law, matrimonial lawyer, divorce lawyer, minor maintenance / custody.